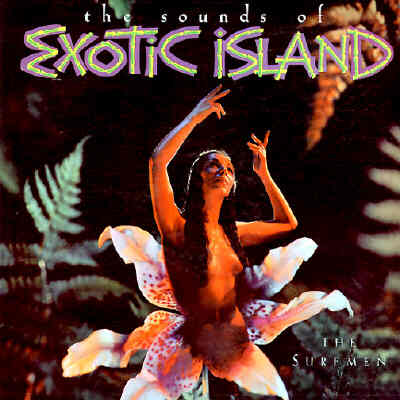 Cette pochette, faisant surgir très kitschement - sur fond de fougères sauvages - une hawaïenne dénudée d'une orchidée en guise de jupe tentaculaire, est une des plus ravissantes du style exotica. Sans être un joyau du genre, le contenu auditif est à la hauteur : belle richesse instrumentale, comme chez Martin Denny ou Arthur Lyman ; qualité des arrangements qui frappe rapidement l'oreille grâce à un combo réunissant du beau monde : Paul Horn, Jimmy Rowles, Alvino Rey, Milt Holland (qui a commis par ailleurs avec Roy Harte le savoureux
Percussion Unabrigged
) et le célèbre percussionniste Emil Richards dont on a déjà parlé dans Martian Shaker.
Rip access
ici
:
This is music with the hypnotic enchantment of a jungle paradise filled with both the romantic and the forbidden. From the delicate eroticism of the "Orchid Pool," the calling surf of "Moonlight In Paradise," to the terror of the volcanic sacrifice in "Fire Goddess"; this is music of a unique and spicy flavor. This is the lure and the spell of Exotic Island.
The arrangements in this album were scored by two very capable musical beachcombers — Joe Kuhn and Bob Louden. The Surfmen include such top west coast musicians as Paul Horn, Roland Bundock, Jimmy Rowles, Al Hendrickson, Alvino Rey, Jack Sperling, Sam Weiss, J. Castonza [sic], Milt Holland, Gene Estes, Ann Stockton, Emil Richards.
Special percussion instruments used were: Tahitian log, Chinese wind glass, Guatemalan gourd, coconut shells, lava stones, bamboo rods from Hawaii, bamboo puppet shakers from Hong Kong, and Congo drums from Tanganyika, Africa. Tropical bird calls, surf and jungle sounds are authentic recordings of same.