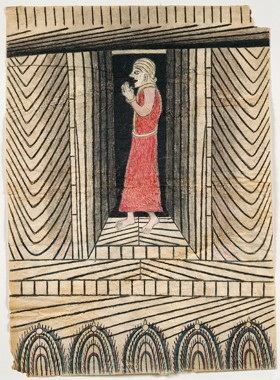 "On ne sait presque rien de la vie de Martin Ramirez. La plupart des informations le concernant proviennent des notes du Dr Tarmo Pasto, qui l'a découvert dans les années quarante. Né au Mexique, en 1895, il émigre aux Etats-Unis dans l'espoir de trouver un emploi. Il est ouvrier dans une compagnie de construction de voies de chemin de fer, un emploi harassant qu'il supporte mal. Son physique et son état psychique se détériorent rapidement. Il sombre progressivement dans la folie et à partir de 1915 s'enferme dans un mutisme complet. Commence alors pour lui une vie d'errance qui durera près de quinze ans. En 1930, il est interné pour schizophrénie.
Martin Ramirez commence à dessiner dans les années cinquante sur des papiers récupérés, des morceaux qu'il recolle à l'aide de mie de pain ou de pomme de terre écrasée.
Son œuvre est bouleversante, exceptionnelle, et on la placera aux côtés des plus grands auteurs d'art brut, et des grands artistes de ce siècle. Une œuvre à la fois narrative et abstraite, qui séquestre les stéréotypes (le bandito mexicain, la madone, les animaux des forêts, le train, etc.) dans des entrelacs architecturaux. Les figures se font icônes, rêves impossibles, espoirs asphyxiés, liberté illusoire. La contrainte est totale, le cauchemar répétitif, comme ces lignes en écho qui confèrent aux dessins des rythmes envoûtants, hypnotiques. Elles scellent une trajectoire, un circuit concentrationnaire duquel on ne s'échappe pas. L'œuvre de Ramirez est la plus saisissante quand elle imprime cette idée paradoxale de mouvement et d'enfermement, condamnation à toujours répéter le même, sans espoir de l'autrement : train fantôme qui n'en finit jamais de tourner. Vertige de la répétition, mouvement cinétique, projection de spirales sans fin, fuite éperdue dans un tunnel.
Images gravées qui donnent peut-être la mesure des journées harassantes de celui qui parcourt sans fin et sans arrêt les mêmes carreaux, les mêmes lignes du couloir.
Mais tel un lapin échappé du chapeau, le cavalier semble parfois échapper aux miradors. Les lignes s'inversent alors pour bâtir une pyramide, plate-forme d'envol vers l'illusoire " happy end " d'un western hollywoodien, affiches qui ont dû bercer les rêves de Martin Ramirez avant qu'il ne franchisse l'enfer du Rio Grande. Aujourd'hui, il reste environ trois cents dessins : le trésor de Martin Ramirez," décédé en 1963 en Californie.
extrait de http://www.abcd-artbrut.org
Remembering that it was a group of artists and psychiatrists who established the field of Outsider Art, we owe much to both for recognizing the visionary genius of Martín Ramírez. After twenty years of hospitalization, Ramírez began to secretly make drawings and collages on sheets of scavenged paper he glued together with starchy foods and spit. In 1954 he presented a group of these to Sacramento State College visiting psychology professor Dr. Tarmo Pasto, who, sensing they were exceptional, put them safely away in storage. Years later, Chicago artist Jim Nutt, teaching at the college in the late 1960s, found the works, and spearheaded the first exhibition of Ramirez' work, leading to its representation by Phyllis Kind Gallery, and attention from the greater art world.

Born in the Los Altos region of Jalisco, Mexico, Ramirez lived there until he was about 30. Scenes, memories, and dreams from that culture seemingly confront the viewer. Los Altos is ranchland and it is no surprise that horses and their trappings are shown in such detail. Hunting was a survival activity; the area was thick with deer and other game animals. Mexican folk Catholicism permeates this art, from apocalyptic imagery to allegories of animal Madonna and child.

The art of Martín Ramírez is monumental. Ranging in size from a few inches to nine feet in height, the effect of his drawings on the viewer is enormous. Drawn in by the proscenium he has set up, one is mesmerized by the lines, colors, and characters he has assembled there. A master fabulist, his stories include images of the natural world of landscapes and animals, cities, roads, men on horseback, cars, trucks, ships, the Virgin, highly imaginative variations of trains and tunnels, and sometimes letters and words in his native Spanish.